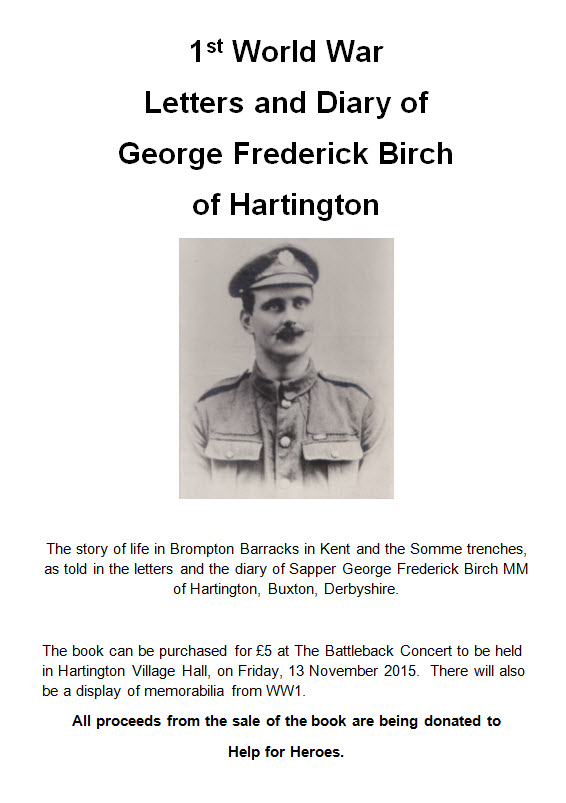 A book containing the letters and diary of a Hartington man who fought in the Great War is set to be launched at the village's Remembrance Service.
George Frederick Birch (known as Fred) was awarded the Military Medal for bravery during the First World War and the book tells his tales of life in Brompton Barracks in Kent and the Somme Trenches.
Fred's granddaughter-in-law, Lesley, has collated his memoirs and the letters he sent home during the war into the book, with all proceeds set to go to Help for Heroes. The book will be launched during a Remembrance Service on Friday 13 November.
Lesley said: "Fred's letters and diary were found amongst boxes of old family photographs.  I was fascinated to read the letters which he had sent home, and once I commenced reading his diary, the hardships and adversities endured by soldiers in the First World War became vividly apparent.
"It was not an easy task to read and transcribe the letters and diary, as they were all written in pencil, which over the years had faded and smudged.
"It is my conviction that the centenary of the First World War is an appropriate time to make these thought provoking letters and diary entries available to a wider audience. I am looking forward to the launch of the book at the service in Hartington."
Pupils from the village's primary school have been looking at extracts from Fred's diaries and letters during their studies. They have used the journal to write their own thoughts on what life would have been like during the Great War.
An extract from his diary on March 30 1918 reads: "Lay in support.  Word sent that Jerry was attacking and in front line.  Went over in three waves and turned him out.  Lost officer but went on without him and straightened things up."
The Remembrance Service is taking place at Hartington Village Hall on Friday 13 November from 7.30pm.
The concert is being organised by village resident Sarah Lacey and is the fourth annual service she has arranged. All proceeds from ticket sales will go towards the Royal British Legion's Battle Back Centre in Lilleshall. Over the years, approximately £1,200 has been raised in Hartington for the cause.
The centre aims to support wounded, injured and sick military service personnel to help them achieve their best possible recovery and either return to service duty or to make a smooth transition to civilian life.
Sarah received a letter from the centre last month which read: "We are incredibly grateful to you and the good people of Hartington for their continued generous support. Please pass our thanks to all members of Hartington Royal British Legion and members of the wider community."
Tickets for the service are £6 on the door which includes hot drinks and biscuits and Warslow Silver Band will be performing. Everyone is welcome to attend.
To order a copy of Fred's memoirs, contact Lesley on 01298 845 32 or email her via beechbirchcottages@hotmail.com