Hartington C of E Primary School News
To Infinity and Beyond
Students embrace music and friendship with an Out Of This World theme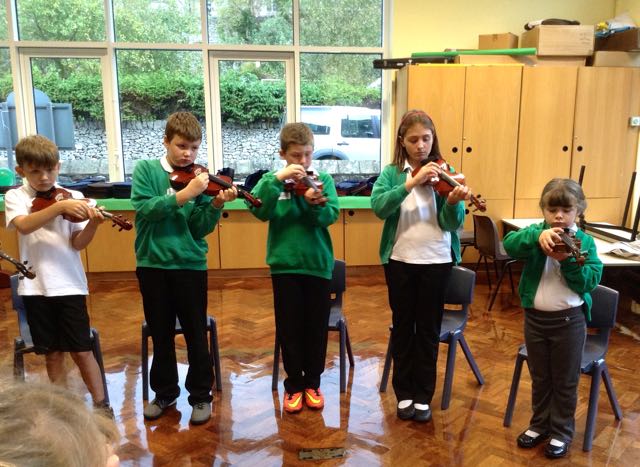 Date:     Friday 14th November 2014
Youngsters from Hartington C of E Primary School are set to join forces with another rural school and put their singing voices to the test, as part of the Derby and Derbyshire Music Partnership.
Students will be visiting neighbouring school, Taddington and Priestcliffe C of E School on Thursday 20th November for a morning showcase of songs based on the theme of space exploration.
The pairing comes after Leader of the Singing Support Team for Derby and Derbyshire Music Partnership, Rachel Wilkes, visited the schools over a ten-week period last term, to host music workshops with instruments and singing.
She suggested as both schools have small class sizes that they join together for a special performance and now pupils are busy learning four songs based on space travel, ready for the event.
It coincides with Friendship and Respect Week (in conjunction with Anti-Bullying Week organised by the Anti-Bullying Alliance), Head Teacher of Hartington C of E Primary School, Tracy Blackwell, says: "We are really looking forward to this opportunity to work with Taddington School and to be able to discuss important issues around friendship and bullying together. It is so important for our children to understand how to work together with children outside of their community."
To end the summer term with a bang, Hartington C of E Primary School pupils put on a show for teachers, parents and carers to demonstrate what they'd learnt during the Music Partnership programme with Rachel.
Vice Chairman of the School Governor's, Liz Broomhead MBE, says: "It really was quite amazing to see; the discipline and the empathy, it really was a very moving and emotional experience. All parents and carers could see what a beneficial opportunity it was; seeing every child working together, from ages 5 to 11, it was quite unique."
Staff are now hoping to base this year's Nativity play on the space theme, to incorporate singing, instruments, acting and drama, in a bid to build on pupil's confidence and allow all pupils to work together collaboratively.
Hartington C of E Primary School
Address – The Dale, Hartington, Buxton, Derbyshire, SK17 0AS
Tel-         01298 84254
Fax-         01298 84254
Email-     info@hartington.derbyshire.sch.uk
Website – www.hartington.derbyshire.sch.uk
There has been a school on the site since 1866.  There is evidence to suggest that formal education in Hartington goes back a good deal earlier than this date as a School Master was appointed by the Dean of Hartington in 1758 to teach in what is now called the Old School House.  The earliest tuition took place in St. Giles Church for many years prior to the 18th Century. The present school was extended and remodelled in 1965.
Pupils are accepted the academic year in which they have their fifth birthday and leave for secondary education at the age of 11 years.  The majority of pupils transfer for secondary education to Queen Elizabeth's Grammar School in Ashbourne.
Hartington Primary School rated "good" by Ofsted in Feb 2013.
Derby and Derbyshire Music Partnership
Derby & Derbyshire Music Partnership (formerly Derbyshire City & County Music Partnership) leads the Derbyshire Music Education Hub. Working with other local music organisations, the Music Partnership oversees the local delivery of the Government's National Plan for Music Education.
The music service has over 200 full and part-time instrumental/vocal teachers who teach around 15,000 instrumentalists and involve a further 2,000 pupils annually in other music projects.
In addition, The Music Partnership also provides further support for music development including singing projects, infant and junior workshops for cluster schools, organising live performances and workshops with visiting artists.
To find out more visit – www.derbyshiremusichub.org.uk
The Anti-Bullying Alliance
Anti-Bullying Week takes place Monday 17th to Friday 21st November 2014.
Every year the Anti-Bullying Alliance coordinate national Anti-Bullying Week; a week where children and young people, schools, parents and carers come together with one aim: to stop bullying for all.
To find out more about the Anti-Bullying Alliance – www.anti-bullyingalliance.org.uk