NEIGHBOURHOOD WATCH CRIME PREVENTION FREE WEBINAR SERIES
We are delighted to invite you to attend our free crime prevention webinars running during February.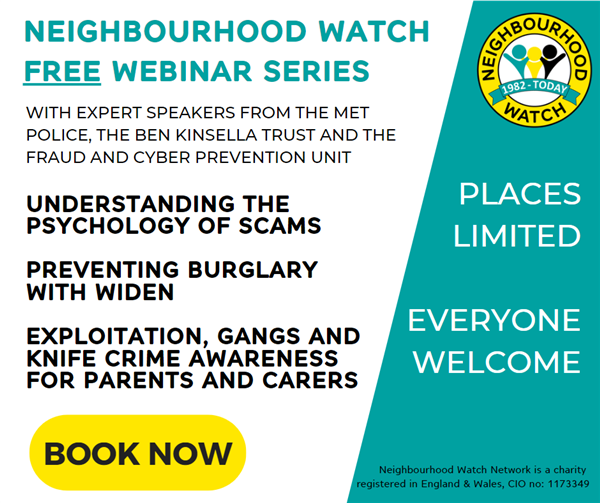 Each webinar will be delivered by Neighbourhood Watch with an expert speaker on each of the topics of knife crime, burglary prevention and scams. Places are free but limited. We traditionally fill places very quickly so book your place soon to avoid disappointment. As our webinars are very popular, we ask that you only book a place if you intend to attend, to open spaces for others.
The PREVENTING BURGLARY WITH WIDEN and UNDERSTANDING THE PSYCHOLOGY OF SCAMS webinars will each be run twice – you only need to book on one of those, not both.
The EXPLOITATION, GANGS AND KNIFE CRIME AWARENESS FOR PARENTS AND CARERS is a two-part course; and we ask that ONLY PARENTS AND CARERS attend those and that you commit to attending both sessions.
Click link for more details and to sign up to webinars – some already fully booked and to view recorded webinars.